Congratulations to IHS Fall Semester Students of the Month!
Congratulations to senior basketball guard Miller Weast! Miller committed to continue her playing career at NEO College in Miami, Oklahoma.

HS Volleyball

First Cross Country meet in the books. Jaycee Adkins earned a 3rd place medal in the HS girls 11th & 12th grade division at Inola's first CC meet of the season. Also pictured are freshmen runners Joshua Harris and Cannon Walker.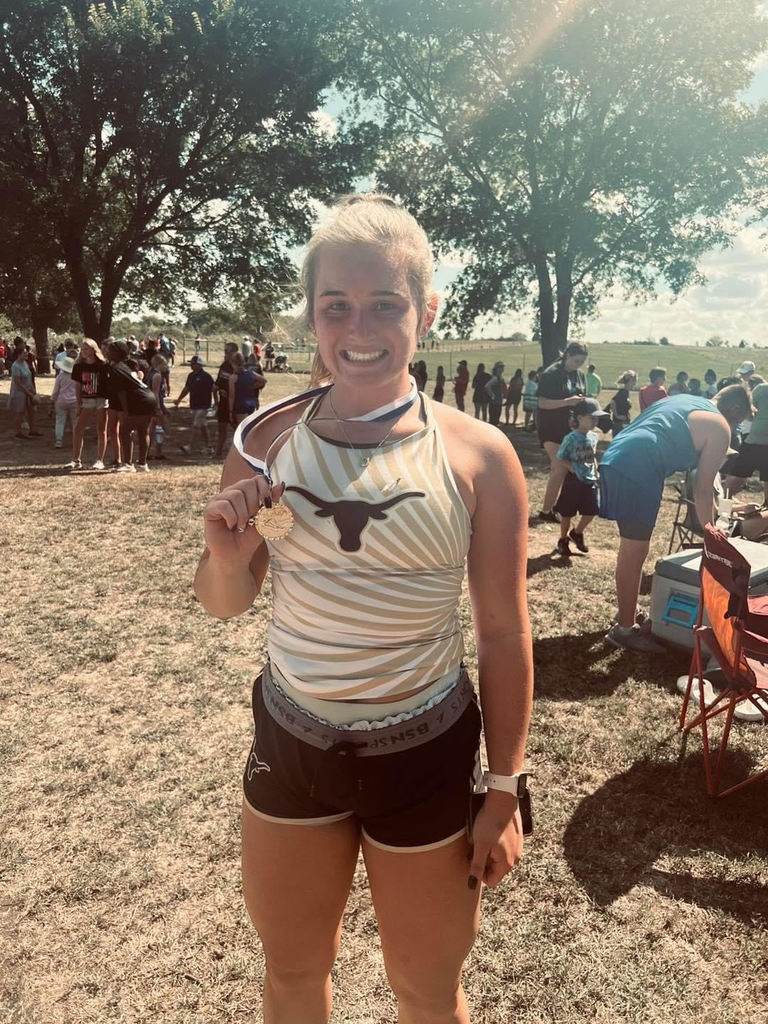 Congratulations to the HS Boys Track team … OSSAA Academic Achievement Award 🥇 They were awarded for maintaining a cumulative grade point average 3.25 or higher. They actually had a 3.51.

Inola had two other athletes that automatically advance to state as regional runner up. Sydney Biggs 300 m hurdles CJ Lawrence Pole Vault This is their 2nd year to qualify for state! The following will advance with at large bids (meaning they had the next best 4 times/heights/distances in the event compared with the other 3 regional locations). Natali Aguila 100 m & 200 m Jayce Adkins 800 m Girls 4x200 m relay Keaton Miller High jump Jedd Barrett Shot & Disc

Inola had two other athletes that automatically advance to state as regional runner up. Sydney Biggs 300 m hurdles CJ Lawrence Pole Vault This is their 2nd year to qualify for state! The following will advance with at large bids (meaning they had the next best 4 times/heights/distances in the event compared with the other 3 regional locations). Natali Aguila 100 m & 200 m Jayce Adkins 800 m Girls 4x200 m relay Keaton Miller High jump Jedd Barrett Shot & Disc

The Inola Horse Judging team recently traveled to Stillwater to compete at the state contest. Tyler Yoder received the fourth high individual in placings, and Anna Jo Helling 11th high individual in placings. Additionally, Anna Jo Helling got 13th high in individual reasons, and Rayln Yoder received 18th. The Inola Team received 3rd overall in state. Anna Jo Helling was named 8th over all individual, while Tyler Yoder received 10th.

Miss Courtney Tice recently took a group of Inola High School Choir students to New York City for a five-day trip. The students visited numerous places including Radio City Music Hall, the Statue of Liberty, two Broadway shows, Central Park, the 9-11 Memorial, and sang at the top of the One World Observatory.

nola High Senior Signs to Play Basketball Inola High School Senior Jacelyn Catron has signed to play basketball for Coach Tamilyn Tills at Lake Forest College. Lake Forest College is a NCAA division III private liberal arts college located in Lake Forest, Illinois.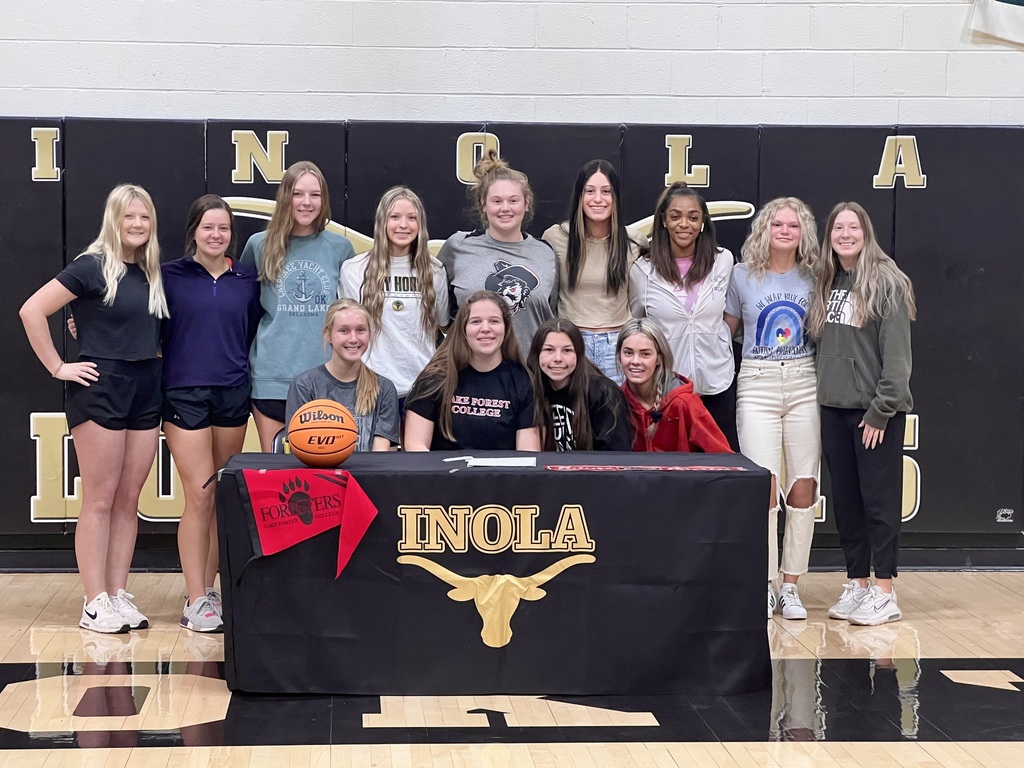 Inola High School recently hosted its second blood drive of the school year. The blood drive was through the American Red Cross and was a success with 59 people signed up to donate (48 were able to give). Even a few were turned away because all the blood bags were maxed out. Assistant Superintendent Jeff Unrau donated blood for the 100th time. Unrau has been donating since his sophomore year of high school at Inola High when the American Red Cross came out for the first time.

eginning this school year, Inola High School offered students the opportunity to not only take Speech and Debate as a class, but to also compete in tournaments. Recently, several Inola High students competed at the regional speech and debate tournament, and eight qualified for the state tournament. The state qualifiers were seniors Kaytlyn Eagleton (in Dramatic Interpretation) and Tyler Gleason (in Poetry). Additional qualifiers were MaryGrace Maner (in Monologue), Ian Buchanan and Landen Soderquist (in Public Forum Debate), and Cooper Russell, Boston Winkler, and Hayden Cannaday (in Policy Debate). Deleea Meeker, teacher and coach of the debut Speech and Debate program, commented, "I am so insanely proud of these kids who joined me in this first year of the program and have let me throw them into events!"

Inola School sent teams from all three sites to compete in the annual STEM Boat Race at the Pryor YMCA. This year's victors were the high school STEM students with their boat, the Bifrost. Mr. Todd Dixon's STEM students have been working on their boats for the past few weeks. Boats are only allowed to be constructed using cardboard and duct tape.

The Inola High School STEM program has been recognized in a video competition hosted by the MidAmerica Industrial Park. Inola students won Outstanding Creativity for their video about Berry Global, Inc., a Fortune 500 global manufacturer and marketer of plastic packaging products, locally located in Pryor. Pictured below (left to right): Adam Miller, Kyler Burgess, Teacher Todd Dixon, Ryan Phillips, Caden Davenport, Jack Moore, Orion Higgins, Kaylynn Wiley, Yengkhong Vue, Sheldon Beal, Dave Rowland (President and CEO of OK MFG Alliance), Thomas Mathews (not pictured Isaiah Schwing)

Inola High School had two wrestlers selected for All-State. Jedd Barrett and Jose Flores were both chosen for the distinguished All-State titles. At the state wrestling tournament in OKC, Jedd Barrett (195 lb) finished 2nd in state in his category. Additionally, Jose Flores placed 3rd in the 145 lb division. Cason Thomas also placed 3rd in the heavyweight section (285 lb).

Inola High School Presents Mamma Mia April 1st & 2nd at 7:00p April 3rd at 3:30p Ticket prices: Adults: $10.00 Students/Seniors 65+: $5.00 Children 3 & Under: Free All tickets can be purchased at the door. Doors will open 30min before the performance time each day.

Inola Distance Learning Students- Meal Pre-Ordering Meals will be available to students of Inola Public Schools. The school must be notified by email by 9:00am if students would like a breakfast/lunch that day. It is preferred for you to indicate on one email if you would like meals all week. This will be our procedures: Please email
mcox@inola.k12.ok.us
giving the students name and grade, and indicating white or chocolate milk. You will get a breakfast and lunch, one of each. If you prefer to only receive lunch you must indicate that on the preorder email. Meals will be available for pick up from 11:15-12:00 on days when school is in session. All student meals will be distributed at the Middle School Cafeteria back door entrance Grab-N-Go style (please remain in your vehicle and provide your students names). We will only be serving 1 meal option for lunch and breakfast. A roster is used to identify students picking up meals (siblings who are not Inola Public Schools students are not eligible to receive a meal). All meals are FREE to Inola Public Schools students Meals are subject to menu change. _____________________________________________________________________________________________ In accordance with Federal civil rights law and U.S. Department of Agriculture (USDA) civil rights regulations and policies, the USDA, its Agencies, offices, and employees, and institutions participating in or administering USDA programs are prohibited from discriminating based on race, color, national origin, sex, disability, age, or reprisal or retaliation for prior civil rights activity in any program or activity conducted or funded by USDA. Persons with disabilities who require alternative means of communication for program information (e.g. Braille, large print, audiotape, American Sign Language, etc.), should contact the Agency (State or local) where they applied for benefits. Individuals who are deaf, hard of hearing or have speech disabilities may contact USDA through the Federal Relay Service at (800) 877-8339. Additionally, program information may be made available in languages other than English. To file a program complaint of discrimination, complete the USDA Program Discrimination Complaint Form, (AD-3027) found online at: How to File a Complaint, and at any USDA office, or write a letter addressed to USDA and provide in the letter all of the information requested in the form. To request a copy of the complaint form, call (866) 632-9992. Submit your completed form or letter to USDA by: 1. mail: U.S. Department of Agriculture Office of the Assistant Secretary for Civil Rights 1400 Independence Avenue, SW Washington, D.C. 20250-9410; 2. fax: (202) 690-7442; or 3. email:
program.intake@usda.gov
. This institution is an equal opportunity provider.

The Cross Country End of Year Party was held on Tuesday, November 30th at Simple Simon's Pizza in Inola.

Inola High School's Fishing Team, led by coach Greg Lawrence, competed this past weekend at the Skiatook Fishing Tournament. Skiatook Lake is known for being called the Dead Sea because of the difficulty in fishing it. The high school team had several duos finish in the top 24 spots both Saturday and Sunday (October 16 & 17). Brock Flanagan and Grady Castleman placed 8th overall. Fisher Long and CJ Lawrence earned 3rd out of 65 boats, qualifying them for the state fishing tournament. Members of the Inola High School Fishing Team: Coached by Greg Lawrence Lane Addy David Bradshaw Grady Castleman Aden Cherniski Caleb Duncan Lakin Ellison Joseph Estes Brock Flanagan Jose Flores CJ Lawrence Hannah Lawrence Fisher Long Zavian McKay Adam Miller Cole Ryder Wyatt Sterling Coby Watson Will Wilhour

Inola Fishing Team competes in Fishing Tournament at Skiatook Lake on Saturday, October 16th.